Chiptune is a category of music piece featured by old-school game console sound. Doesn't it sound something to do with Nara-anime topic? The answer is YES, guys.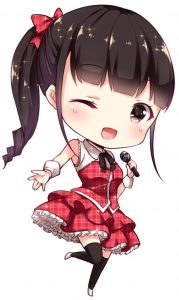 What is chiptune?
Let's get started by searching the word, '8bit' on Youtube. It is a terminology PC's capability at the time when this type of sound is invented (oh well, we are now 64bit CPU era…). It's basic and Lo-fi but definitely gem from energetic 80's culture.
I picked up an example below.

Sounds familiar? There are tons of uploads that has '8bit-version' of anime OP tunes. Not surprisingly, in 80's there were tight limitation of computational power where PC could afford 3-4 voices by a sound chip. Memory limitation is another issue so it couldn't 'sample' any real musical instruments either. Instead, it generates tone by LSI chip with oscillators and modulators built-in.
However….
It opened new horizon of music in a way (like 'Tecno'). Essentially the sounds and 'noise' are generated from scratch electrically and no similarity to traditional physical musical instruments do.
Every anime creators are a gamer  in some sense. They grew up with those type of music in-printed so it's natural you find some context in on-going modern anime series.
A good example of on-going 2017 summer season is 'GAMERS'.
One of most popular TV animation series ongoing but my highlight is opening theme.
【OPテーマ試聴】
金元寿子さん、石見舞菜香さん、大久保瑠美さんが歌うアニメ「ゲーマーズ!」オープニングテーマ『GAMERS!』の試聴が公開されました!
作詞・作曲・編曲をまふまふさんが担当!視聴はこちらから♪https://t.co/4gTijMrYNn#ゲーマーズ

— TVアニメ『ゲーマーズ!』公式 (@gamers_tvanime) July 13, 2017
It's elegant mix of anime music and chiptune. The story also deals with some nostalgia of early gaming culture as a good spice so you cannot miss out.
Summary
Search '8bit chiptune' to taste old-school game sounds
Now they are re-invented for latest anime scene as timeless 80's taste
Stay tuned in Cool Nara Radio (some original chiptune songs are now on air
Author: Nara-chan
Sponsored link